Riser Recliner Chair Hire from £20 p/week
An affordable, market leading rental service for Mobility
We want to make sure every one has access to the right chair that they need to maximise their comfort and quality of life.
Easy delivery & collection service with in-home setup.

Rentals available from as little as £20 p/week


Prepaid collection, no large final fees for peace of mind.


Save hundreds of pounds per year compared to other suppliers.


No long term contracts. Return when you are ready with zero penalty.


Delivery in 2-14 days on average.

Our product range for rental chairs changes weekly. Below are some of the chairs currently available to hire.
If you would like to enquire please call us, alternatively selecting the chair below will show you more pictures and the chairs specifications.
Read more about our rental service...
We offer a range of refurbished riser recliner mobility chairs to our customers as part of a superb package which offers peace of mind, flexibility and improved mobility at an affordable price.
Our risers are installed in your home. Delivery and installation is included in the initial rental charge as well as the final collection fee - so you can be sure there are no charges when/if you decide to return the chair.
Should any problems arise with your chair during the rental we aim to have an engineer on site within a few days. If the chair cannot be repaired we will replace it with a similar model.
Peace of mind, simplicity and comfort for a low weekly price.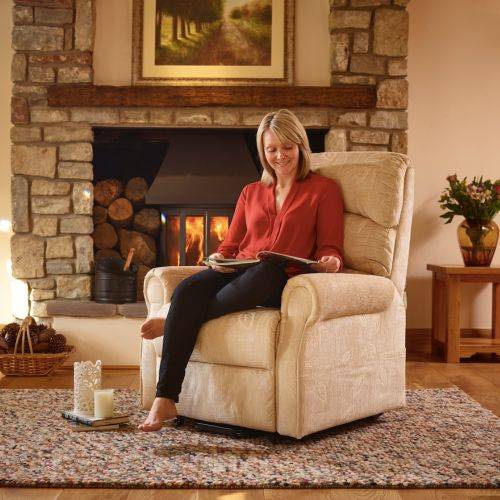 Our friendly team of customer service agents are happy to discuss your options by phone. We have a zero-pressure policy so rest assured that we will provide you with our best advice and most affordable options.
Rental payments are made by weekly direct debit and the initial rental payment covers all of the costs of the rental. A minimum term of 2 weeks rental is included with the initial payment and you can cancel at anytime - we will then arrange to have the chair collected.
Initial payment of £150 includes delivery, collection and initial two week hire.
Some geographic restrictions apply and may be subject to surcharges. If you have any questions please do not hesitate to get in touch on 0800 644 5064
Our friendly team of advisors are ready to answer any questions you may have. You can either call us on 0800 644 5064 or fill in the form below for a call back.
Our team are zero-pressure in line with our company ethos which means you won't be under any pressure to decide straight away.
After a quick call to discuss your needs we can advise which chairs may be most suitable for you and answer any questions you may have regarding the rental agreement.
Watch a short testimonial about Morris Living